Introducing Next-Gen AX3000 Wi-Fi 6 with New Chipset and Incredibly Low Latency
Shenzhen, China - As WiFi 6 on new devices becomes the new normal, the demand for WiFi 6 routers is rising, and more efficient WiFi chipsets keep coming out. That's why we're excited to announce the release of the WR3000, our new AX3000 Dual-Band WiFi 6 Router that provides higher efficiency and lower latency.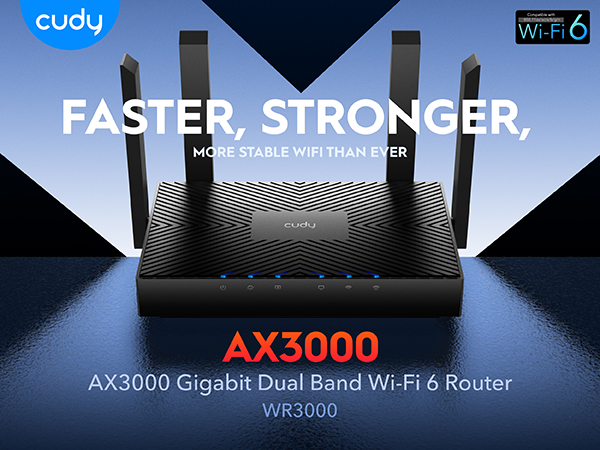 Warping Speed with the Highest Bandwidth HE160
WR3000 equips the mainstream AX3000 WiFi 6 speeds by boasting a 160 MHz bandwidth, the highest available in the WiFi industry. This allows WR3000 to provide up to 2.4 Gbps speed on the 5 GHz bands, matching the mainstream WiFi spec of high-end devices on the market. The combined dual-band speed of WR3000 reaches 2976 Mbps, which is more than double that of the previous-gen 4-stream router AC1200.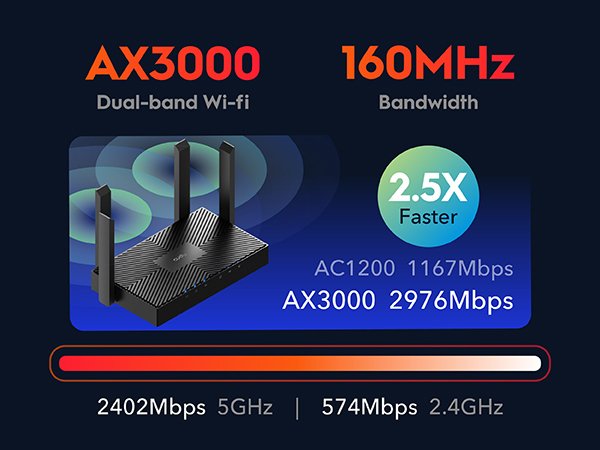 UL/DL MU-MIMO and OFDMA Reduce Latency
The significant difference between WR3000 and previous generation AX3000 routers on the market is the new MTK Filogic 820 chipset that enables downlink and uplink MU-MIMO and OFDMA. In comparison, many first-generation AX3000 WiFi 6 routers only supports these two features in the downlink direction. Thus, WR3000 provides a significantly smoother experience in scenarios of sending data uplinks for multiple devices while maintaining low latency, such as online gaming, calling, and live broadcasts. This new chipset features a 1.3 GHz dual-core Cortex-A53 CPU, which makes the router highly efficient and able to stay cool even under heavy use.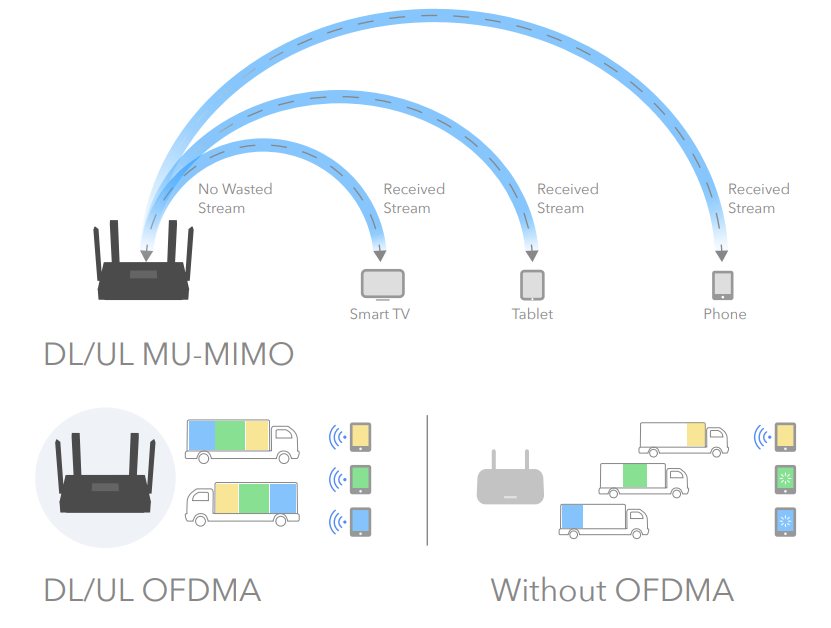 WR3000 supports OFDMA and MU-MIMO in both DL and UL directions
Browse Website Securely
The WR3000 isn't just about raw power. It also comes with various security features. The router supports VPN clients and servers in 6× protocols for users to access the network from a remote spot securely. DNS over TLS with support for Cloudflare DNS and Google DNS allows users to browse websites with high confidentiality by encrypting all DNS requests.
WR3000 highlight features:
1.3 GHz Dual-Core Cortex-A53 CPU
Super-Fast AX3000 WiFi 6 Speeds
4× Gigabit Ports
4× High-Gain Antennas and Beamforming
20/40/80/160MHz Bandwidth
UL/DL OFDMA and MU-MIMO
VPN and DNS over TLS
IPv4/IPv6, TR069/TR098/TR181/TR111
For more information, please visit: AX3000 Gigabit Dual Band Wi-Fi 6 Router, Model: WR3000-Cudy: WiFi, 4G, and 5G Equipments and Solutions
If you're in the market for a new router, look no further than the WR3000. Our sales team is standing by to answer any questions you may have. Contact today: nicholas@cudy.com
About Cudy
Founded in 2018 and headquartered in Shenzhen, Cudy is a highly competitive tech-driven company in the R&D and manufacturing of wireless and networking products. The product portfolio covers Wi-Fi Mesh Routers, OpenWRT Routers, Repeaters, 4/5G CPE Routers, PoE, Switches, and Smart Home IoT Devices.
PR contact: pr@cudy.com