Cudy upgrades 5G CPE P5 with the latest Qualcomm X62 5G modem
Shenzhen, China — Cudy today announced a huge upgrade on its 5G CPE AX3000 WiFi 6 Router — P5 with X62 Modem replacing the previous P5 with X55 Modem. Equipped with the advanced Qualcomm X62 chip made with a 4 nm process and abundant AI features, P5 is now capable of accessing more available cellular bands, reaching super-fast 2.8 Gbps downlink speed, and getting better 5G signal reception, and drastic latency reduction.
P5 has been a beloved 5G router, for its whopping 5G speed, super-fast Wi-Fi 6, abundant features, and easy-to-use installation. By applying the coexistence design of both 5G and WiFi Qualcomm solutions, P5 minimizes the mutual signal interference between WiFi and cellular communication, achieving optimal performance in the industry. With the X62 upgrade, P5 is able to create a more responsive network, where customers can enjoy immersive high-quality live feed, lag-free remote working, online gaming, and other latency-sensitive tasks even all at the same time.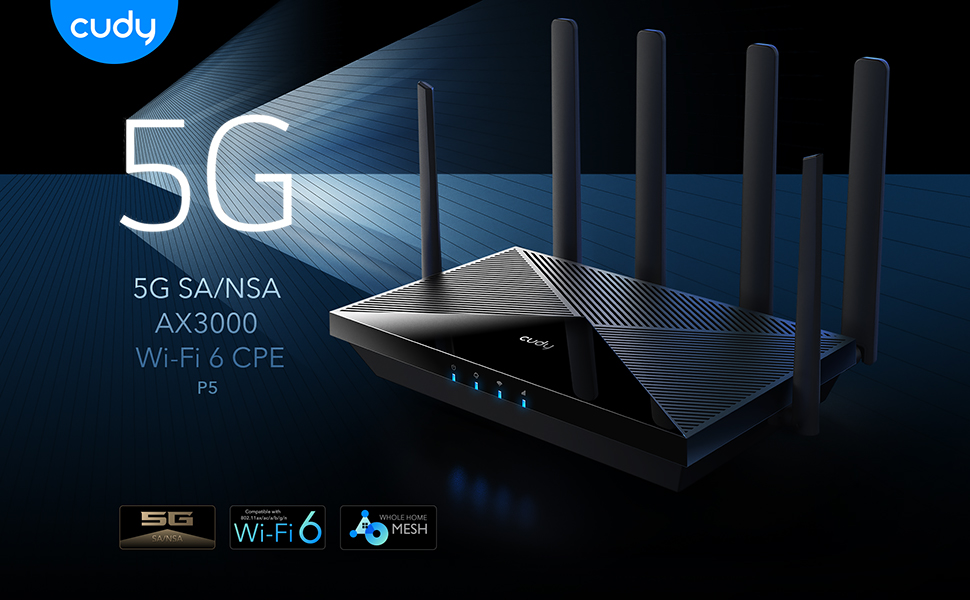 Improved Reception with 28 Bands
Accessing more bands means better ISP compatibility and higher speed in more areas. The new P5 now accesses 28 5G bands* in total — adding 8 more bands than the previous P5 version — which is the highest support in the latest running 5G standard release 16. Wider spectrum access elevates the overall 5G reception, along with the support from new AI features of Qualcomm® Wideband Envelope Tracking, Qualcomm® AI Enhanced Signal Boost, and Qualcomm® Smart Transmit 2.0. No matter whether in a densely populated city center, suburb, or other 5G enabled areas, customers can always reap the benefits of accessing more vacant lanes and better signals, hence getting a faster network.
"In city areas where the existing bands are easily jammed by numbers of clients, accessing extra bands is critical for reaching optimal 5G speed." said the product engineer, Reed. "Beyond that, due to less interference, some carriers provide better service on these new bands, and P5 now can hop on these bands to deliver congestion-free network for our customers."
*Supported 5G NR SA&NSA bands include n1/n2/n3/n5/n7/n8/n12/n13/n14/n18/n20/n25/n26/n28/n29/n30/n38/n40/n41/n48/n66/n70/n71/n75/ n76/n77/n78/n79.
Drastically Reduced Latency and Improved Stability
With the adoption of the new 5G Release 16 standard, the new P5 is reducing cellular latency to an impressively low level. The enhanced Ultra-Reliable Low-Latency Communication (eURLLC) solution incorporates effective engineering designs, including cutting downlink latency with improved channel controls and allowing uplink data to skip the base station's granting procedure. When autonomous driving is becoming a reality with the industry-level 5G standard, our customers can also experience fiber-like low latency networks in their homes with the new P5.
Featuring Multi-TRP technology, the new P5 establishes a stronger network by communicating with multiple base stations simultaneously. By taking full advantage of multiple surrounding 5G base stations, the new P5 makes live feed, WiFi calling, and remote working even smoother.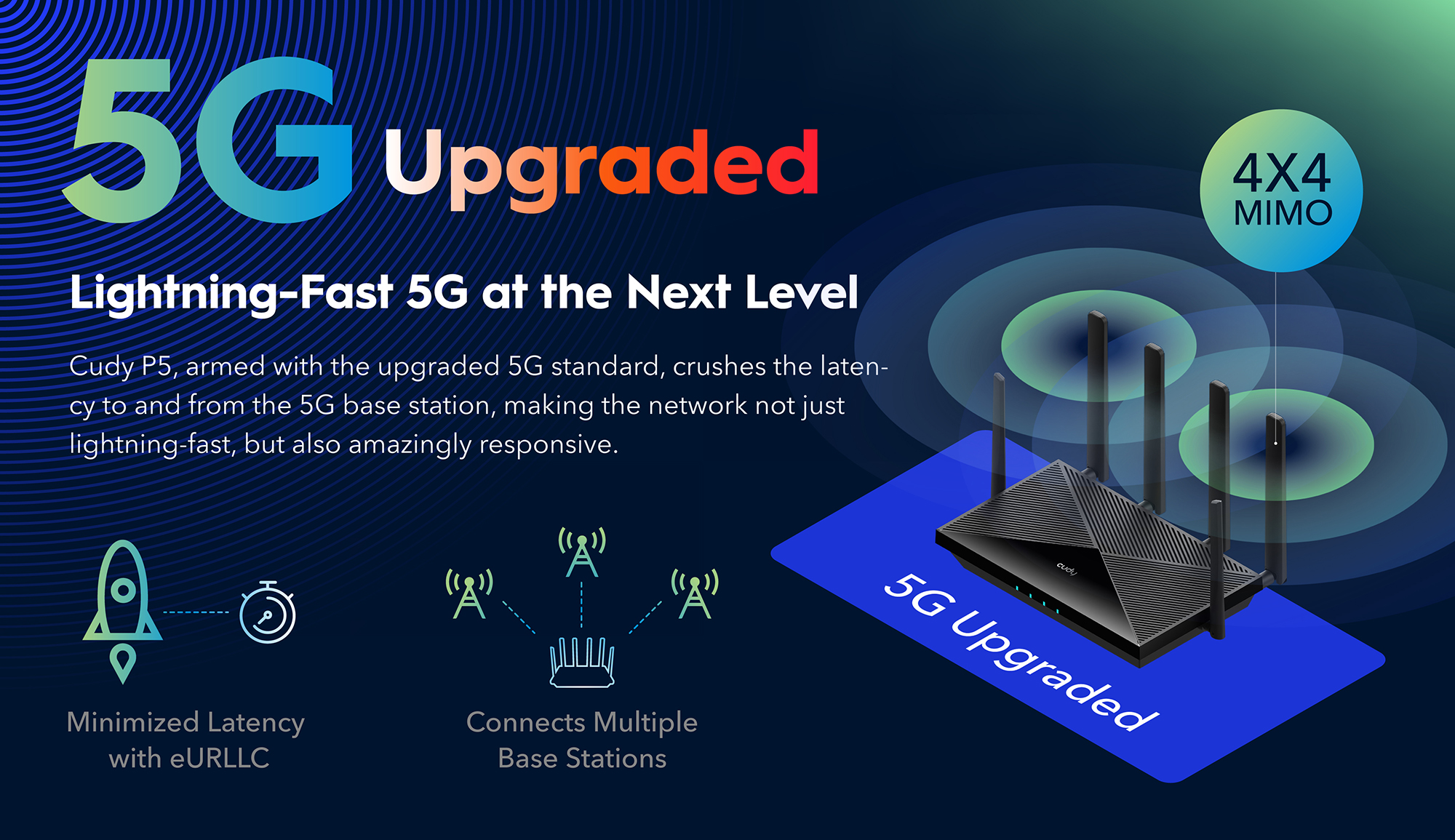 Warping 2.8 Gbps 5G Download Speed
Equipped with the new Qualcomm X62 modem, P5 now supports up to 2.4 Gbps downlink speed under SA mode (2.8 Gbps under NSA mode), topping a 2 Gbps wired connection. Its uplink speed also doubles the previous P5 to 900 Mbps under SA mode. Together with the super-fast AX3000 Wi-Fi 6, streaming multiple 4K playback feels instant, and opening large files from the cloud gets done in a breeze.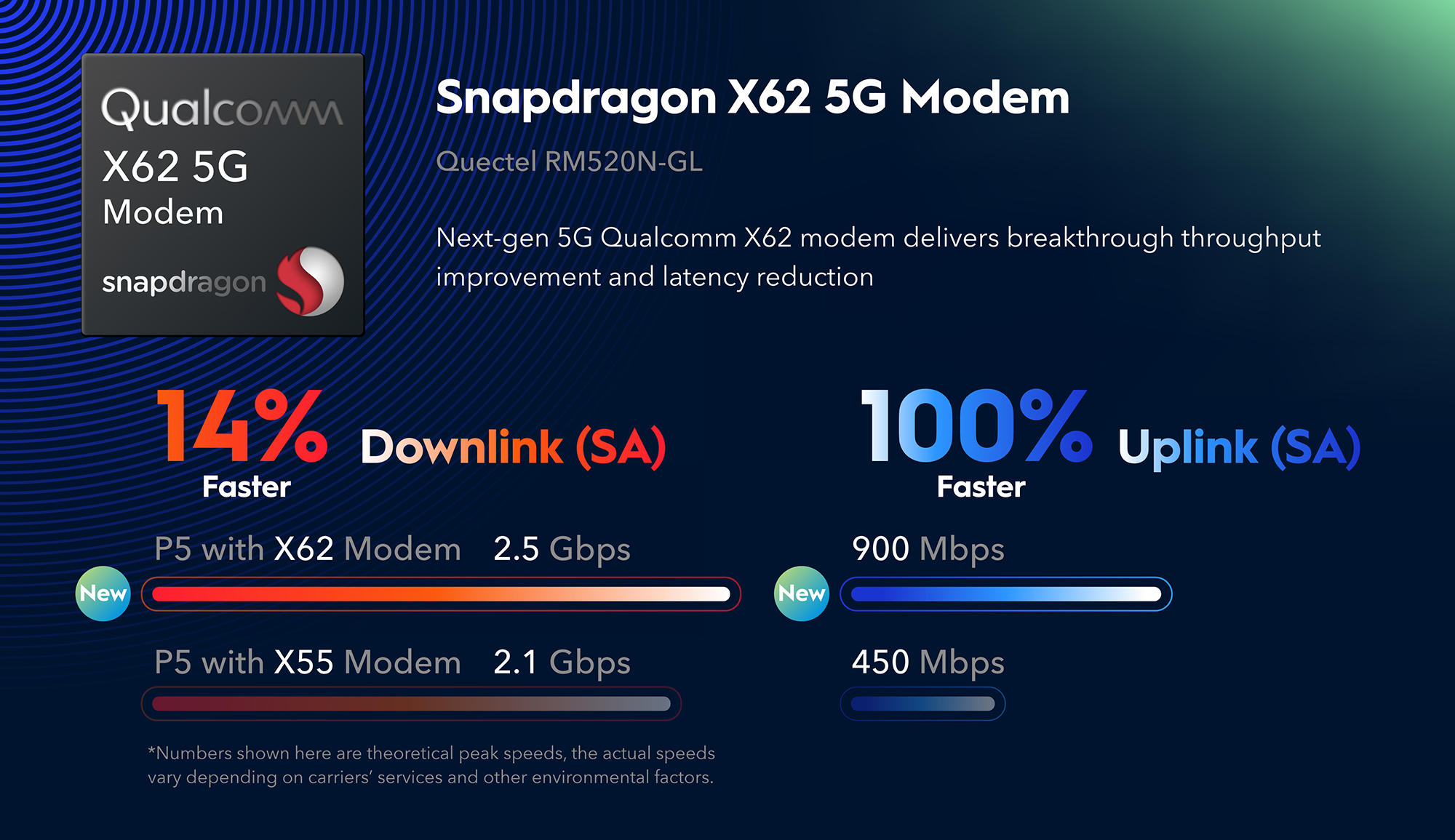 Cudy P5 Key Features
5G NR SA/NSA CPE

4×4 MIMO for Faster and Better Reception

4× Detachable Cellular Antennas for Reception Optimization

Redundant nano SIM Slots

Qualcomm 5G Plus Qualcomm Wi-Fi Design

3 Gbps Dual Band Wi-Fi 6

Full 160 Mhz Wi-Fi Channel

Dual-Core Qualcomm CPU

WAN Backup with 4× Gigabit Ports

Supports DDNS and Multiple VPN Protocols

Ready for Service Provider
Availability
P5 will be available on Amazon US, DE, FR, and ES in late Dec, 2022. To become a reseller or distributor, please get in touch with nicholas@cudy.com.
Learn more about P5: 5G SA/NSA AX3000 Wi-Fi 6 CPE, Model: P5-Cudy Home
Press Contacts pr@cudy.com
Disclaimer:
Maximum wireless signal rates are the physical rates derived from IEEE Standard 802.11 specifications. Actual wireless data throughput and wireless coverage are not guaranteed and will vary as a result of network conditions, client limitations, and environmental factors, including building materials, obstacles, volume and density of traffic, and client location.

Snapdragon is a trademark or registered trademark of Qualcomm Incorporated.

Snapdragon is a product of Qualcomm Technologies, Inc. and/or its subsidiaries.